Whether you're worried about your online privacy or you are just fed up of regular status updates from some old friends that you think aren't actually that cool, there are a lot of reasons that can make you delete your Facebook account – and it's not as difficult as you might think.
In this article, we'll walk you through the process of how to permanently delete your Facebook profile step-by-step, including explaining the difference between 'deactivating' your account and deleting it completely.
If you're serious about deleting your account then you're not the only person to think so. Between the increasing worries about the effect, social media has on our individual and societal health, people are increasingly turning away from social sites that have come to dominate the internet.
Whatever your reason, deleting or deactivating your account is actually very easy. Here's how you do it.
Difference between deleting and deactivating a Facebook account
There are two different ways to get your Facebook account offline. The first is known as deactivating. If you deactivate your facebook account:
You can reactivate your account If you want to do so in future.
People won't be able to see your Facebook Timeline or search for you.
Some information may remain visible (like messages that you've sent)
Facebook will save your account information (like friends and interests) in this case which may be needed in case you reactivate
But deleting your account is a more serious matter. If you delete your account:
Facebook holds the deletion for a few days after the request is made. If you log in during this period, the deletion is cancelled.
Once your Facebook account is deleted, you can't regain access to it.
Your data that's stored in backup systems can take up to 90 days to be deleted. However, your profile won't accessible on Facebook during this time.
Some things aren't stored in your account, like messages that you've sent to friends will be shown publically.
Copies of some material (like log records) may remain in Facebook's database but are "disassociated from personal identifiers," according to the company
Basically, deactivating is a way to remain off from Facebook for a while, while deleting is a permanent solution that you can decide after careful thinking.
How to deactivate your Facebook account
1. Click the upside-down triangle in the top right corner of any Facebook profile or page.
3. Click "General" in the left column.
4. Click "Manage Your Account."
5. Select "Deactivate Your Account" and follow the written instructions to confirm your choice.
To reactivate your account, just log in to the account online or use your Facebook account to log in to a third-party app.
How to delete your Facebook account
(https://www.facebook.com/help/delete_account)
2. Click "Delete Account" in the lower right-hand corner.
Facebook recommends downloading a copy of your information before deleting your account so that you don't lose everything you've posted. This is very important if there are photos or posts from friends that you want to save.
How to download your information on Facebook
1. Click the upside-down triangle in the top right-hand corner of any Facebook page.
3. Click "Your Facebook Information."
4. Click "View" next to "Download Your Information."
5. To add or remove categories of data from your request, check or uncheck the boxes on the right side of the page.
6. Choose the format of your download, the quality of photos and videos and the date range of your request.
7. Click "Create File" to confirm your request.
8. You will get a notification when your download request is prepared.
9. Navigate to the "Download Your Information" page again (click the upside-down triangle >> "Settings" >> "Your Facebook Information" >> click "View" next to "Download Your Information").
10. Click "Download."
After you re-enter your password, the file should begin downloading.
How to Delete Connected Apps on Facebook
If you're on your way towards permanently deleting your Facebook profile or page, removing the apps you've used your account to log into is a good idea. Here's what you need to do:
1. In your Settings page, click on Apps and Websites.
2. You'll be presented with lists of active, expired and removed apps. To delete an active app, tick the box next to it and click on Remove: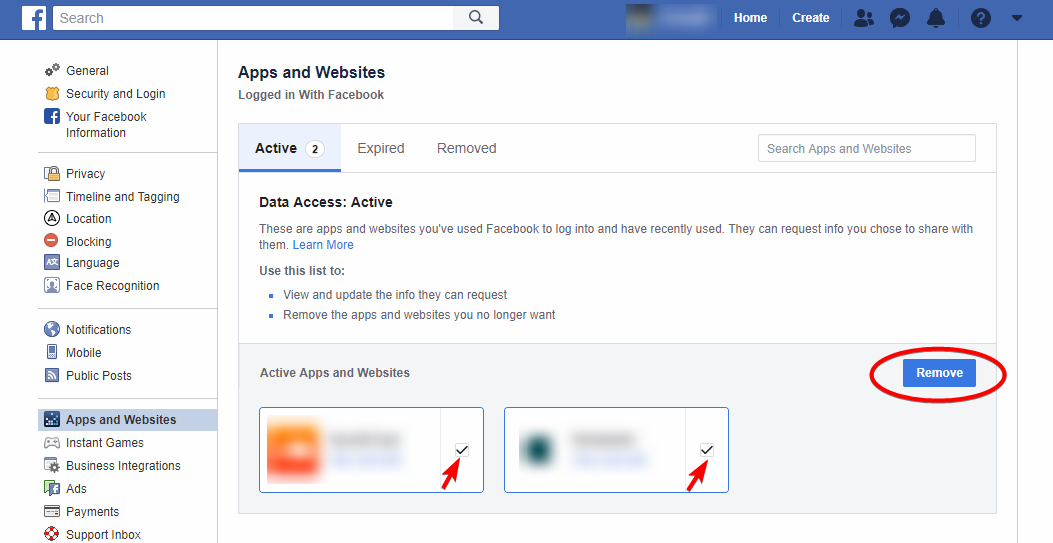 3. Expired apps no longer request your private information, but you can still log into them with your account. You can edit the info they request, or you can remove them altogether.
TIP: Removing your connected apps isn't a requirement if you want to delete your Facebook account permanently. However, accessing a connected app with your Facebook account may require you to cancel the deletion process if you've started it already.
How to Delete Your Search History on Facebook
To permanently delete a part or all of your search history, follow these steps:
1. Click on the search bar and then on the "EDIT" button next to the "recent searches ribbon":

Another way is to simply access your activity log and navigate to the bottom of the filter list, where you'll find the "Search History" button.
2. You can now clear searches, one at a time, by clicking on Edit > Delete: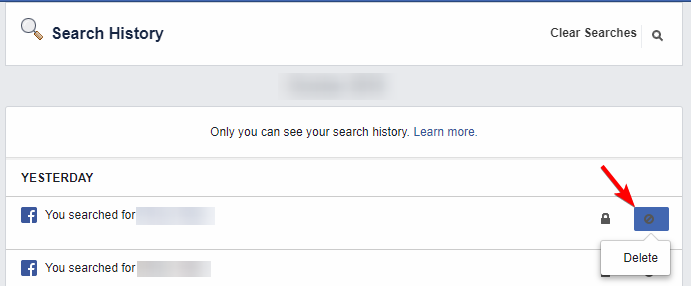 3. To delete all your searches in bulk, click on Clear Searches in the top-right corner.
The process is generally the same for mobile users. Simply navigate to your search history(Settings & Privacy > Settings > Activity Log > Category: Search History). Again, you can choose to delete individual searches or the whole list.
How to Delete Photos, Videos, and Albums on Facebook
You can easily review and remove the photos, videos, and albums you've uploaded on Facebook via the Filters panel. Here's how:
1. Access your Activity Log.
2. Go to Photos and Videos, right in the middle of the list.
3. A list of your uploaded media will appear in chronological order. To delete an item, click on the pencil-shaped icon on the right side: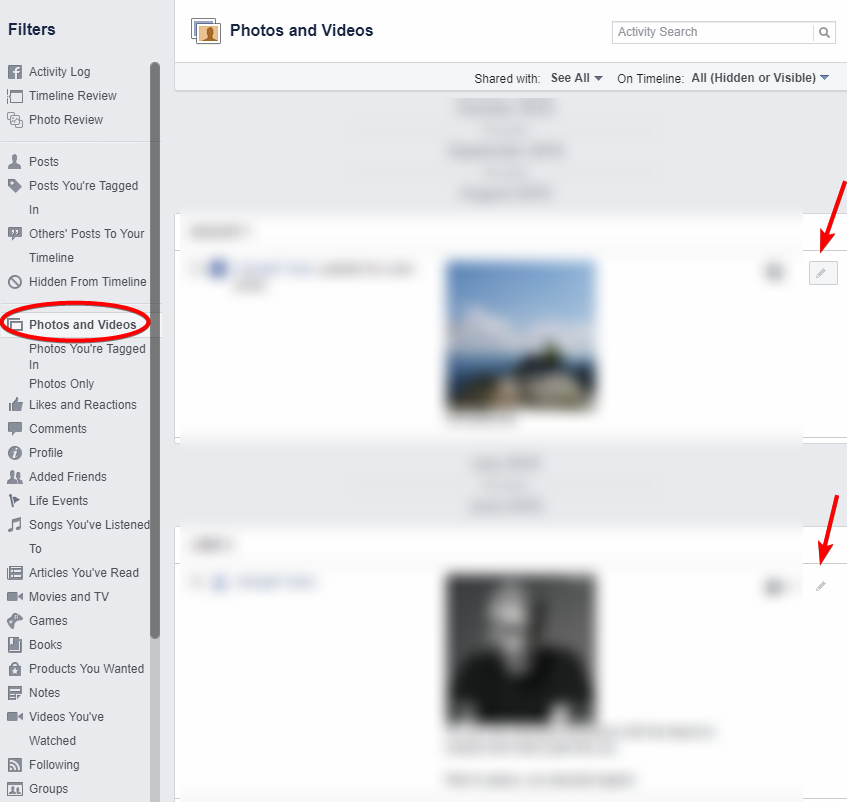 TIP: Your profile, cover, and featured photos can't be deleted. You can only choose whether they are shown or hidden on your timeline.
If you'd rather delete entire albums, navigate to the Photos > Albums tab in your profile. There, you can view and quickly remove your collections.
How to Delete Facebook Comments and Posts
If you want to delete your comments and replies on Facebook without having to wait for up to 90 days, you need to do the following:
1. Access your Activity Log.
2. Go to Comments, right under Photos and Videos.
3. Follow the same procedure: click on the pencil-shaped icon on the right, then Delete:

You can do the same for your Facebook posts. The only difference – you'll need to click on Posts instead of Comments in the list. You can find the Posts button at the beginning of the list, under the Activity Log option.